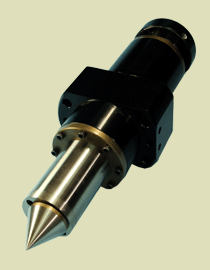 FP110 TruPosition Probe
Air Pneumatic LVDT version
Specifications: (Standard Models)
Accuracy +/- .00025" / .005 mm
Repeatable +/- .00025" / .005 mm
Range .236" / 6.0 mm
Max. Hole Dia. .930/23.62 mm
Features:
Used where 100% inspection is required. or multiple checks are required in fast cycle time, for example, weld or assembly line.
Stroke length for standard model is 1.312"
Uses two LVDTs, one for "A" axis and one for "B" axis (not supplied).
Can be used with any 8 mm diameter LVDT.
Has options for 3rd Axis capability. Please contact us for more information.
*Based on type and brand of LVDT used.
For CAD files, right click on link select "Save Target As"