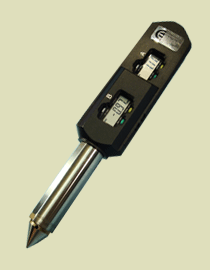 TP101 TruPosition Probe
Digital Signal Output
Features
TruPosition TP101 Digital probes are an all-purpose portable probe designed for verification and variable data collection of True Position positional tolerance for a hole, slot, or weld nut.  Gages are designed for usage across multiple feature and multiple gage checks.
Portable / Handheld model.
Digital readout of both axis in handle enables on-the-spot viewing of inspection results.
Data Recording – Manual
Diametrical Range – 0.125" / 3.17 mm – (.0625" / 1.585 mm any direction from zero. ) Helps helps in tool development and setup.
Multiple feature and multiple gage check capabilities.
Specifications (Standard Models)
Shipped with TP101
Carrying Case, Zero Master Bushing and Certification Document.
Additional Requirements
See the TP101 Digital Probe In Action
Supporting Documentation
For CAD files, right click on link select "Save Target As"