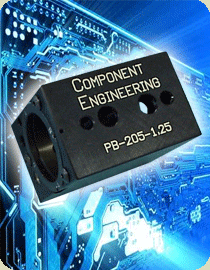 Probe Blocks
Features:
Aluminum construction with .002" hardcoat surface.
Hardcoat is RC62-70 hardness.
Orientation Ring with "A" axis and "B" axis stamped into the ring.
The ring is used to orientate the TruPosition Probe to the desired position for "A" and "B" axis.
Thinner, lower, profile than a standard drill bushing that is press fit into a block of steel or aluminum.
Dowel holes and Probe hole are held to .0015" location to each other. This Allows dowel hole construction or CMM location of blocks, with dowel hole transfer method of construction.
Can be mounted on or through base, riser block, angle plate swing template, hinge drop, etc.
Advantages:
Brings the cost of building a fixture using the TruPosition Probe closer to the price of building a fixture with stab pins.
Smaller size and lighter weight make it possible, to use with hand apply fixtures and to place the bushings closer together.
All bushings will fit the Probe—no lapping required.
Hole patterns are the same for 1.00" Dia. and 1.25" Dia., thus they are interchangeable (except for PB208-1.25).
Orientation ring can be reversed and labeled any way needed.
Note: A Tooling Aid is available for setting the orientation rings concentric to the bore of the probe block so there is no drag on the probe shaft. See TA1.00 or TA1.25.