Eliminated labor-intensive inspection process, increased inspection cycle time, and enabled future production expansion without incremental quality inspection expenses.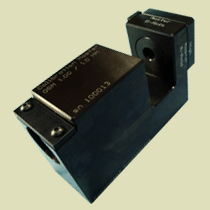 A global leader in automotive die-cast components was charged with delivering 100% inspected parts while maintaining profitability. Their current process was labor-intensive, and time consuming – requiring either manual (handheld air gaging) or CMM inspection. Additional key inspection challenges included diameter checks on stepped bores, repeatability of inspection and correlation to CMM data.
Component Engineering partnered with Mahr Metrology to design an auto-gage that addressed key inspection challenges and streamlined the overall quality inspection process.
Our auto-gage solution integrated Mahr air gaging to provide accurate and repeatable variable data for a total of six (6) bore diameters. A TruPosition probe and LVDT's were also used to check the mating surface profile and alignment hole true position, all within the required cycle time of <60 seconds. The inspection work cell was also designed to enable future automated part load and unload, freeing up skilled staff to support other parts of the production process.
OUTCOMES AND BENEFITS TO THE CUSTOMER
By providing an automated inspection process we avoided the labor-intensive requirement for every part to be inspected by hand or via a CMM. Also, by greatly reducing the inspection cycle time, we have enabled future production expansion without incremental quality inspection expenses.
Correlation work gave our customer confidence that each part was being inspected to the same criteria and standards of the traditional CMM process.
Repeatability and Reproducibility
– <10% on all features – tolerances
from .03mm to 1mm.
Component Engineering are experts in designing and building the inspection tools you need to deliver quality finished parts.
TruPosition | quality. Measured.